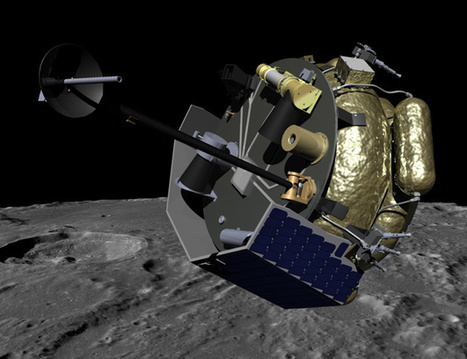 Moon Express, Inc., a privately funded lunar resources company, unveiled its "MX-1" lunar lander spacecraft today as a breakthrough robotic space vehicle capable of a multitude of applications including delivering scientific and commercial payloads to the Moon at a fraction of the cost of conventional approaches.
The spacecraft design is being unveiled today at the closing session of Autodesk University in Las Vegas in front of an audience of over 10,000 attendees.
The MX-1 synthesizes proprietary robotic technologies, advanced micro-avionics, and a unique toroidal structure to produce a "green" robotic spacecraft that is powered by sunlight and uses hydrogen peroxide as rocket fuel. Hydrogen peroxide (H2O2)is an oxygen enriched water compound commonly found in nature and biological systems. With the recent discovery of water on the Moon, the MX-1 has a potential source of rocket fuel on the lunar surface, a scenario that would be a game changer in the economics of lunar resources and solar system exploration.