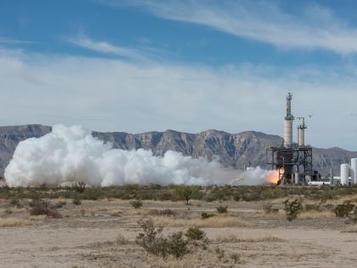 CAPE CANAVERAL, Fla. — Blue Origin, a startup commercial spaceflight company owned by Amazon founder Jeff Bezos, completed a full-duration burn of a liquid hydrogen-fueled engine developed for the New Shepard suborbital spaceship and planned orbital vehicles, president and program manager Rob Meyerson said Dec. 3.
The test, which took place at Blue Origin's facility near Van Horn, Texas, simulated what an engine powering New Shepard would be required to do in flight, namely thrust at 110,000 pounds for 145 seconds to boost the ship, shut down for 4.5 minutes to allow the vehicle to coast beyond the atmosphere, restart and throttle down to 25,000 pounds of thrust to make a controlled, vertical landing.
The full-duration simulation, which occurred Nov. 20, capped an 11-month series of tests during which the engine was powered up 160 times and operated for a cumulative total of more than 2.5 hours.
"This is a very significant milestone for us," Meyerson told reporters on a Dec. 3 conference call. "It gets us over a major hurdle, a major risk area for the development. It clears the way for moving forward into final checkout of the vehicle and readying it for flight test."