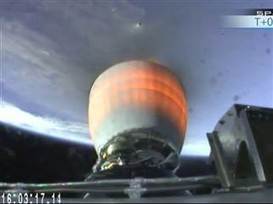 The SpaceX launch company and its billionaire founder, Elon Musk, on Tuesday smacked down suggestions that the upper stage of its upgraded Falcon 9 rocket exploded after putting a half-dozen satellites
in orbit.
"There was definitely no explosion of any kind." Musk told NBC News in an email. "Falcon 9 released all satellites safely in their intended orbits."
The suggestions were sparked by radar readings passed along by Space-Track.org, a database that monitors orbital objects ranging from satellites to space junk. SpaceX's Falcon 9 v1.1 rocket was launched for the first time from Vandenberg Air Force Base in California on Sunday, and released the Canadian space-weather satellite called Cassiope as well as five smaller payloads into pole-to-pole orbits.