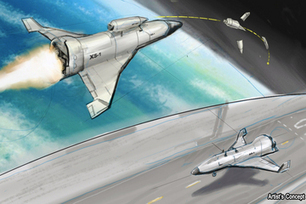 SAN DIEGO — The United States military is kick-starting a suborbital hypersonic vehicle program that also aims to launch payloads into orbit on the cheap.
The new program, run by the Defense Advanced Research Projects Agency, is called Experimental Spaceplane, or XS-1. It follows in the footsteps of previous DARPA hypersonic projects, such as the HTV-2 aircraft that reached 20 times the speed of sound in an August 2011 test flight.
Officials want the reusable, unmanned XS-1 to take advantage of capabilities to be showcased under another DARPA initiative, the Airborne Launch Assist Space Access (ALASA) program, which aims to launch small spacecraft (up to 100 pounds, or 45 kilograms) in the 2015-2016 time period for just $1 million per liftoff, including range costs.