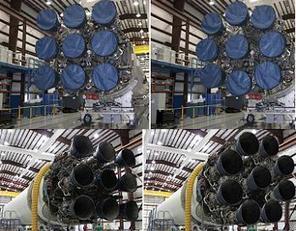 Engineers at SpaceX's Rocket Development and Test Facility in McGregor, Texas are continuing to conduct a series of firings of the company's upgraded Falcon 9 v.1.1 launch vehicle – which is scheduled to debut this summer. Testing on the core stage – with its new Merlin 1D engines – has proven to be challenging, due to a number of aborted firings.
SpaceX have successfully flown the Falcon 9 v1.0 – powered by nine SpaceX Merlin 1C engines arranged in a "tic-tac-toe" pattern – via the first five F9 launches, including four launches of the Dragon spacecraft – three of which resulted in a successful mission to the International Space Station (ISS).
The upgraded Falcon 9 v1.1 will utilize a longer first stage, powered by nine Merlin 1D engines arranged in an "octagonal" pattern. The addition performance from the Merlin 1D's will increase the payload capability to over 29,000 pounds to Low Earth Orbit (LEO).