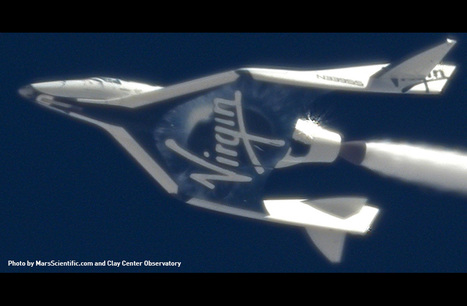 SpaceShipTwo, a six-passenger, two-pilot suborbital spaceship owned by Virgin Galactic, an offshoot of Richard Branson's Virgin Group, is scheduled for is first rocket-powered test flight on Monday, Branson told the Las Vegas Sun newspaper in an interview published on Tuesday.
"We're hoping to break the sound barrier. That's planned Monday. It will be a historic day," the newspaper quoted Branson as saying.
During the spaceship's last test flight on April 12, manufacturer Scaled Composites of Mojave, Calif., flowed oxidizer through the vehicle's propulsion system and out its nozzle (pictured top), providing the first visible hint of what the vehicle will look like as it blasts off into space.