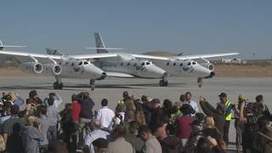 ALBUQUERQUE (KRQE) - The governor and Virgin Galactic's CEO leaned on lawmakers Tuesday to hurry passage of legislation to protect spacecraft manufacturers and suppliers from most lawsuits.
The bill is moving forward at the Roundhouse, but with barely 10 days left in the legislative session is it moving fast enough?
"We've already lost several opportunities for new investments and new jobs to other states that have passed this legislation," Gov. Susana Martinez said.
Martinez cited XCOR Aerospace as passing on New Mexico twice to move to Texas instead.