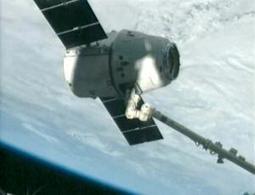 Dragon capsules are classed as weapons, and commercial spaceflight may suffer for it. US rules to stop arms trafficking may mean we never find out what delayed a recent Dragon mission to the International Space Station.
SpaceX, based in Hawthorne, California, sent a Dragon capsule into orbit on 1 March carrying supplies and science experiments bound for the ISS. Then its thrusters developed problems, apparently due to blocked fuel valves. But ground engineers managed to clear the blockages, and the craft docked with the space station a day late.
SpaceX promises a full investigation into what went wrong, but what it can reveal is restricted by the International Traffic in Arms Regulations (ITAR), which list commercial capsules like Dragon as munitions.