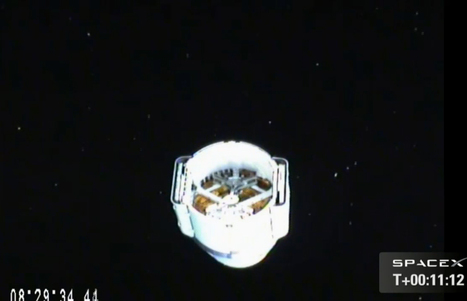 Engineers with the commercial spaceflight company SpaceX are working to solve a thruster problem on the firm's robotic Dragon space capsule that cropped up shortly after the spacecraft's launch toward the International Space Station today (March 1).
Though SpaceX made enough progress on the thruster issue to take the step of deploying Dragon's solar arrays, the question remains whether the spacecraft can still reach the space station as planned.
SpaceX's Dragon space capsule launched into orbit atop the company's Falcon 9 rocket at 10:10 a.m. ET (1510 GMT) from Cape Canaveral Air Force Station in Florida on a mission to deliver cargo for NASA to the space station. The launch appeared to go smoothly, with the unmanned capsule reaching orbit shortly thereafter.
But once in orbit, the Dragon capsule's Draco thruster system did not activate as planned. The capsule is equipped with 18 of SpaceX's Draco thrusters, which use nitrogen tetroxide and monomethylhydrazine fuel to maneuver the spacecraft in orbit.