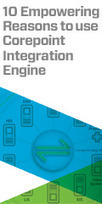 Patient engagement sounds like a utopian, out-of-touch goal of Meaningful Use. But there is truth in numbers, and they show that engagement is a must.
Healthcare must be built on a foundation of Health IT-supported care coordination and patient engagement, there is no other way to consistently and quickly scale improvements and care, and to accelerate the overall learning of the health care system.
As Topol points out, this is the path to real, personalized medicine, and away from the population-based studies and results that we've seen...