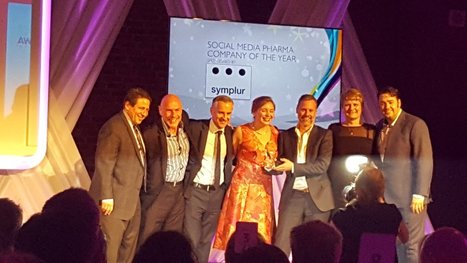 Measuring influence – how we used the Healthcare Social Graph® Score to determine PM Society's Digital Awards winner The PM Society's 2016 Digital Awards Winners!
The PM Society's 2016 Digital Awards took place last month in London, and we were again asked to do the analysis and present the winner of the Social Media Pharma Company of the Year award.
In order for a company to have an effective social media presence it must know where the relevant conversations are taking place, the style of messaging that resonates among the participants, and most importantly who the influencers are within those networks of individuals. We used the Healthcare Social Graph® algorithm to determine weather a company was able to reach their audience from engaging key opinion leaders and their spheres of influence.
The five companies shortlisted for the award were AbbVie, Bayer, Boehringer, Novartis and Pfizer. [...]
But before we get to the winner, let's walk through how we computed the data.
From the 606 million healthcare tweets collected during 2015 we analyzed the conversations around the top 10 diseases with the highest mortality rates in the U.K.; Breast Cancer, Lung Cancer, Prostate Cancer, Stroke, Dementia and Alzheimer's Disease, COPD, Heart disease/failure, Lymphoma, Bowel Cancer and Pneumonia.
Over 500 different hashtags were part of the dataset covering these 10 diseases.The pharma accounts with the highest influence and engagement were identified by the Healthcare Social Graph Score. [...]
Social Media Pharma Company of the Year is – Boehringer
It is our hope, that from the transparency on how this algorithm works, more companies will see the value in not only engaging stakeholders with traditionally strong voices, but including everyone in healthcare.