Scoop.it!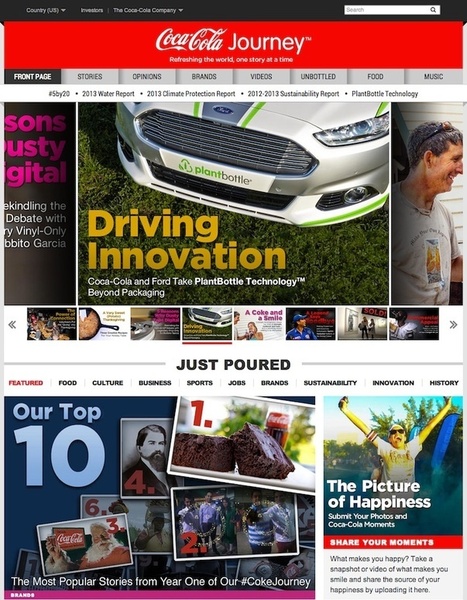 Coca-Cola declares the corporate website dead and launches the digital storytelling platform Coca-Cola Journey instead. Neat content marketing!
Eric_Determined / Eric Silverstein's insight:
Christophe shares the new developments at Coca-Cola with great lessons for all. Of course not everyone have the established brand and capital to make the same investment, but understanding your customer journey interacting with your brand is key:
"Coca-Cola realize that Every day you have a choice of what to read and what to drink. Every day is election day, and our team will be here – working hard to get your vote. For consumers, the corporate website is dead and 'press Release PR' is on its way out."
By creating a 'digital newsroom' and repositioning their corporate website, Coca-Cola sent a clear message from which entrepreneurs and businesses can take valuable lessons:
- One-way communication will die a quiet death. It no longer fits a world of social media and customer interaction.
- Focus your communication not (only) on your products and your services, but (especially) on what your visitors/customers want to read, see and share. Statistics don't lie, and careful data analysis is a recipe for success.
- A good slogan catches the eye, but a good story is passed on. Storytelling is as old as humanity itself. Why would we stop using it now?
- Be transparent and authentic. Coca-Cola know that behind-the-scenes and feel-good stories work. Same goes for an informal style of writing. Everyday language. That's what readers like.
- Take your customers seriously and yourself not too much. Coca-Cola Zero's 'Sweater Generator' is a fine example of a fun game. Their take? "Thanks to Coke Zero, you can score a hilariously hideous sweater this holiday season without having to hit your local thrift store or raid grandma's closet." Check it out: Here you design your 'hilariously hideous' sweater until 1 December.
Any additional lessons you take away from their approach?