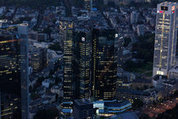 Despite significant differences of opinion, two winners of the Nobel in economic science, Eugene Fama and Robert Shiller, express more confidence in financial markets than may be warranted, an economist writes.

In its simplest form, the debate between traditional and behavioral finance comes down to the difference between two sets of investment recommendations: if you believe the efficient market hypothesis, don't try to beat the market by picking individual stocks, just invest in index funds. If you don't believe it, try to anticipate the kinds of mistakes other investors are likely to make and take advantage of them (a strategy closely associated with the behavioral economist Richard Thaler, who was considered a likely candidate for the Nobel this year).

Tragically, however, both investment strategies fail in the event of a major financial collapse, which drives many businesses into bankruptcy and many workers into unemployment. Minor departures from informational efficiency can't explain the experience of the United States economy in the 21st century.
Theories based on the Keynes/Minsky view of the business cycle focus not on the imperfect rationality of individual investors, but on the institutional dynamics of financial profit maximization under conditions of uncertainty. Banks face temptations to overextend and overleverage themselves during booms and to develop inherently opaque securities like derivatives that offer them enormous profits.