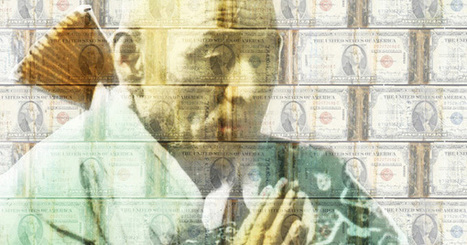 "Work and leisure are complementary parts of the same living process and cannot be separated without destroying the joy of work and the bliss of leisure."

Much has been said about the difference between money and wealth and how we, as individuals, can make more of the latter, but the divergence between the two is arguably even more important the larger scale of nations and the global economy. What does it really mean to create wealth for people — for humanity — as opposed to money for governments and corporations?

That's precisely what the influential German-born British economist, statistician, Rhodes Scholar, and economic theorist E. F. Schumacher explores in his seminal 1973 book Small Is Beautiful: Economics as if People Mattered (public library) — a magnificent collection of essays at the intersection of economics, ethics, and environmental awareness, which earned Schumacher the prestigious Prix Européen de l'Essai Charles Veillon award and was deemed by The Times Literary Supplement one of the 100 most important books published since WWII. Sharing an ideological kinship with such influential minds as Tolstoy and Gandhi, Schumacher's is a masterwork of intelligent counterculture, applying history's deepest, most timeless wisdom to the most pressing issues of modern life in an effort to educate, elevate and enlighten.