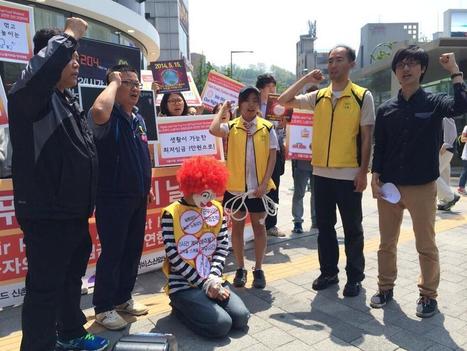 In an unprecedented and inspiring demonstration of workers' solidarity, fast food workers around the world took coordinated global strike action today.

From New York to Mumbai, from Paris to Tokyo, fast food workers and their supporters picketed their workplaces. They are striking against a fast food industry – dominated by big names like McDonald's, Burger King, Pizza Hut and KFC – that makes huge profits while keeping workers on low wages and in precarious jobs.
This may be the first time in history that workers have taken simultaneous strike action against the same multinational companies in so many different countries. It is a welcome dose of union internationalism, aided by social media. Fast food workers around the world have been spreading messages of their actions, and words of solidarity, using the #FastFoodGlobal hashtag. By late afternoon it was the number one trending topic on twitter – the most talked about thing on social media. This is the first time a trade union campaign has achieved this. It is a huge success for us to celebrate: poverty pay has been put firmly on the agenda.