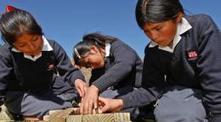 High on a mountainside in the Peruvian Andes – 9,000 feet above sea level – sits a modest adobe schoolhouse that is a lot safer for students and teachers than it was six months ago, thanks in part to the efforts of some Stanford students and their...
The school retrofit involved wrapping the walls in sheets of geomesh, a molded plastic grid resembling construction or chain link fencing. Geomesh is commonly used for stabilizing slopes and preventing soil erosion.
Using wooden blocks to stand in for adobe bricks, the students had constructed a model building on a tabletop, and then simulated an earthquake by shaking the table until the model collapsed. The next video clip featured two model buildings side by side, but on one the walls had been covered with mosquito netting to simulate the geomesh.

When the table started shaking again, the unreinforced "adobe" building again collapsed. But the "retrofitted" one held up with only some cracks in the walls.

"I can confidently say that video was very effective," said Veronica Cedillos, a Stanford master's alumna who works for GeoHazards International and managed the Chocos project. As evidence, she cited an interaction with one of the villagers about a week later.