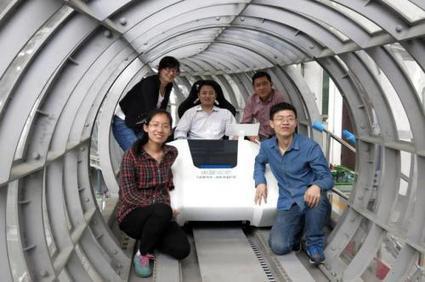 The researcher, Dr Deng Zigang, is focused on developments for a high speed train system of the future.
His superspeed train concept involves an enclosed vacuum tube vehicle. Air is the limiting factor on making even faster high-speed trains, but vacuum tubes let even a low-power vessel operate at enormously high speeds.
Maglevs make for very fast and smooth journeys but currently, speeds are limited due to the excessive air resistance encountered at these speeds.
Are we looking at the future of train travel?
Lidija Grozdanic in Thursday's Inhabitat commented on the significance of his work: With regular maglevs, more than 83 percent of traction energy is wasted through air resistance at speeds higher than 250mph. Zigang has a tube that lowers air pressure in the running environment to one tenth of normal.
Zigang said trains could reach speeds of up to 1,800 mph (2,897 km/h).