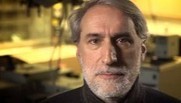 As Daniel Nocera gazed down on one of his experiments in what has come to be known as the "holy grail" of energy research, his response was to shrug:
"Oh, that can't be right."
It was a glass of tap water with a thumb-sized strip of silicon floating in it. When he held the glass up to the light, the strip began to gently bubble.
It seemed to be splitting water into hydrogen and oxygen...