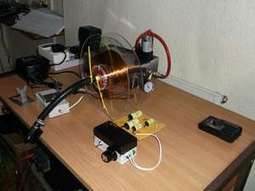 Four years ago, then 66-year-old inventor from London, Dr. Christopher Strevens, began posting a website with instructions of how to build his "fusion reactor", which he says: "Creates helium from hydrogen.
It also captures the power given off during the reaction as electrical power."
He also posted several videos to YouTube showing his prototype in operation, and showing the different color of gas from before versus after; as well as showing spectral analysis that indicates that the hydrogen that he puts into the system has transmuted to helium -- a nuclear phenomenon.
He said: "I found that when I increased the exciter power to 800 Watts the output rose to 2,000 Watts [2.5-times overunity], and when I isolated the reactor from the exciter this power remained. The spark gap regulator became active keeping the power at this level. I only allowed this for a short time before reconnecting the exciter and turning the power down and the reaction ceased."