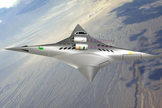 A futuristic aircraft resembling a flying ninja star can turn 90 degrees in midair to go into supersonic mode.
The unusual "flying wing" concept has won $100,000 in NASA funding to trying becoming a reality for future passenger jet travel.
The supersonic, bidirectional flying wing idea comes from a team headed by Ge-Chen Zha, an aerospace engineer at Florida State University. He said the fuel-efficient aircraft could reach supersonic speeds without the thunderclap sound produced by a sonic boom — a major factor that previously limited where the supersonic Concorde passenger jet could fly over populated land masses.
Comment: It's a couple of decades off into the future yet, but still ... a neat idea!