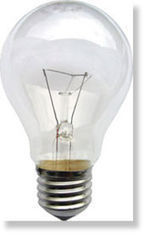 One German physicist, Harald Haas, has come up with a solution he calls "data through illumination" - taking the fiber out of fiber optics by sending data through an LED lightbulb that varies in intensity faster than the human eye can follow. It's the same idea behind infrared remote controls, but far more powerful.
"You can imagine all kinds of uses for this technology, from public internet access through street lamps to auto-piloted cars that communicate through their headlights."
"And more data coming through the visible spectrum could help alleviate concerns that the electromagnetic waves that come with WiFi could adversely affect your health. Talk about the bright side."
(My comment:) Since the transmission is of several contemporaneous data streams using different wavelengths or colors of light, there should not be any low frequency data 'packets', nor should there be the potential of heating of tissues which is inherent in microwave technology.
Lasers for point-to-point connection between users and light from modulated LED light bulbs for the in-house distribution of data.

Sounds like the perfect independent citizen-owned network...