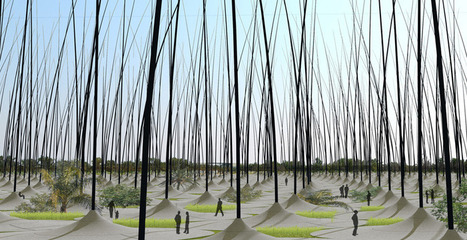 Tall, cattail-like stalks generate electricity by swaying in the wind.
"The designers came up with the idea for the planned city Masdar, a 2.3-square-mile, automobile-free area being built outside of Abu Dhabi. Atelier DNA's "Windstalk"project came in second in the Land Art Generator competition a contest sponsored by Madsar to identify the best work of art that generates renewable energy from a pool of international submissions."
"The carbon-fiber stalks, reinforced with resin, are about a foot wide at the base tapering to about 2 inches at the top. Each stalk will contain alternating layers of electrodes and ceramic discs made from piezoelectric material, which generates a current when put under pressure."