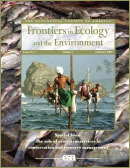 Gretchen C Daily, Stephen Polasky, Joshua Goldstein, Peter M Kareiva, Harold A Mooney, Liba Pejchar, Taylor H Ricketts, James Salzman, and Robert Shallenberger. 2009. Ecosystem services in decision making: time to deliver.
Frontiers in Ecology and the Environment. I think the whole issue was on ES.
"Here, we propose a conceptual framework and sketch out a strategic plan for delivering on the promise of ecosystem services... We describe key advances in the science and practice of accounting for natural capital in the decisions of individuals, communities, corporations, and governments."