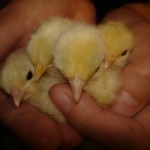 Over 50 breeds of Chickens
Hover over See Rare Breeds above in the navigation bar for a drop down of pages for each breed.
Have you notice how many Roosters are in this photo? And they all are getting along! Try Roosters.information for chicken varieties from Ameraucana to Yokahamas! (Just keep scrolling while hovering.)
You name it – You'll see here that we have heritage chickens and great poultry that includes birds to call urban chickens, backyard chickens, rare chickens, endangered chickens, or just a really great pet chicken.