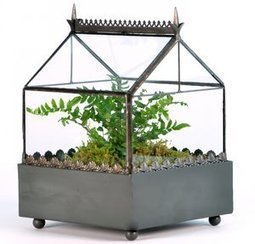 A terrarium treat for you
Exclusive discount for Dirt Du Jour readers! A gem of a Wardian case for under $50; only $42 (plus $4 shipping) = $46.
This tiny terrarium (5.5" square footprint) will bring greenery and sparkle to your desk or nightstand. Oh yeah, you're supposed to be giving this to someone else in December. Hmm. See if this one makes it out your door after you've opened the box. A tasty introduction to the top-quality terrariums from H. Potter.