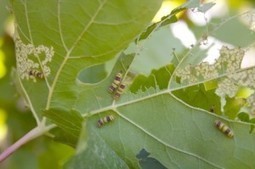 FAO: Integrated Pest Management (IPM) is an ecosystem approach to crop production and protection that combines different management strategies and practices to grow healthy crops and minimize the use of pesticides.
DeBugged: IPM is a term we use in the pest control industry to define a service standard that is both environmentally conscious and highly effective.
Bajwa&Kogan (2002): Compendium of IPM Definitions; What is IPM and how is it defined in the Worldwide Literature? Integrated Plant Protection Center
Anon: "Interesting how countries do the same job but using different terminology for the same principles of IPM. In the UK, Europe & most of Asia they use ERDM: Eradicate, Restrict, Destroy, Monitor. But in the end it boils down to professional pest control carried out in an responsible manner."
Please note:
Posts are only brief summaries - click the title or "Show original" at the bottom of the box, to see the original article. Usually also photos are interactive, just like links in the text are.

If you are interested in the topic, follow us and be informed about updates.