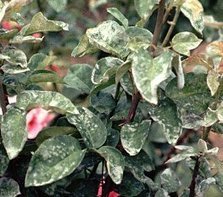 Mildew is a fungal disease, which affects roses. The first signs of powdery mildew appear on young leaves, which hold their color but begin to crinkle...
Once mildew is noticed (keep an eye out for it in the early stages), spray the rose bushes with fungicidal soap or wettable sulphur (both products are readily available at the local nursery). Try to remove any diseased parts and bag and seal, or burn them. Do not compost any diseased parts as the spores will return to haunt your garden when recycled. There are some effective home remedies you can try to help fight mildew and stop it from spreading. The following recipe is also good for fighting blackspot and rust:
Baking Soda Spray:
1 tbsp vegetable oil1 gallon unchlorinated water1 tbsp apple cider vinegar1 tsp Listerine (yes, the famous mouthwash, not mint flavour, just regular)1 tbsp liquid soap1 ½ tbsp baking sodaPump sprayer (large)
Mix the baking soda, soap, Listerine, and oil with 1 cup water. Add the vinegar last so that the mix won't bubble over. Pour the mixture into the sprayer and add 1 gallon water. Shake to combine. Spray plants thoroughly.