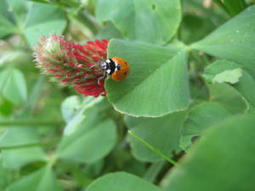 Master Gardeners: Seasonal benefits of cover crops; Marin Independent Journal:
Companion planting is a related practice where one plant can either attract pollinators to another plant or reduce harmful pest populations by either deterring them directly...
To reduce erosion and compaction, cover crops can be used in the winter or the summer rather than letting a plot of soil go fallow. Cover crops can block that sunlight while also providing intense competition for some weeds, thus drastically reduce their populations. Repeated use of cover crops is an important part of an integrated pest management program to reduce or even eliminate certain weeds without the use of herbicides.