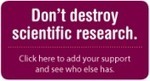 An appeal from scientists at the publicly funded research; calling for discussion not destruction of trials & research on GMO wheat and seeking support with the petition.
John Pickett, Scientific Leader of Chemical Ecology, Rothamsted Research: "On 27th May 2012 protesters are planning to destroy our Chemical Ecology group's scientific research because it uses genetically modified wheat. Growing wheat has an environmental toll of extensive insecticide use to control aphid pests. The research, which is non-commercial, is investigating how to reduce that by getting the plants to repel aphids with a natural pheromone. We are appealing for protesters to call off the destruction and discuss the work."

Sense about Science ?Equipping people to make sense of science and evidence...
...@SeedFeedFood