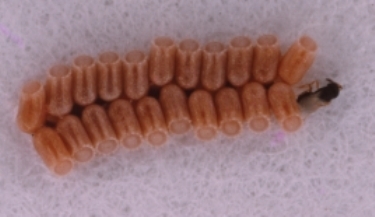 The egg parasitoid Paratelenomus saccharalis attacking eggs of Megacopta (image provided by Keiji Takasu)
Tiny wasp may hold key to controlling kudzu bug Online Athens"Using classical biological control is an option in the tool kit," said Ruberson, an entomologist in the UGA College of Agricultural and Environmental Sciences.
Ruberson's parasitoid of choice is Paratelenomus saccharalis, a tiny wasp no larger than the period at the end of this sentence. The wasp lays its own egg in each kudzu bug egg, and the developing wasp larva destroys the kudzu bug egg as it develops.
The kudzu bug was first spotted in Georgia in the fall of 2009. It feeds on kudzu, soybeans and other legumes and has become a nuisance to homeowners and a threat to international trade as an agricultural contaminant.