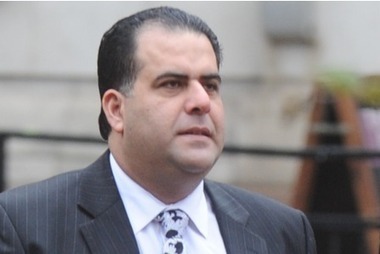 AN OFF-duty taxi driver who sexually assaulted a woman in his cab after picking her up in the street has been spared jail.
Former Welly Club doorman Masoud Rahimi preyed on the 20-year-old as she walked along Ferensway, Hull city centre, from the nightclub.
Masoud Rahimi was given a suspended sentence.
He sexually assaulted her, making inappropriate remarks and stroking her leg after she got into the front passenger seat.
A jury at Hull Crown Court took five hours to unanimously convict him of sexual assault.
Judge James Sampson, sitting at Nottingham Crown Court, has sentenced Rahimi to six months' imprisonment, suspended for two years. He was given a three-month curfew from 8pm to 6am and was ordered to sign the sex offenders register for seven years.
Rahimi, 37, was caught after CCTV footage showed him pulling up in front of the woman in his blue Nissan Primera and offering his services for hire, which he was prevented from doing by his private hire licence.
The court heard Rahimi, of Berkshire Street, east Hull, told the woman she was "beautiful" before assaulting her.
The victim had told the court: "I saw what I thought was a taxi pull up and I went over to it and asked to be taken home.
"I gave my address to the driver, my feet were hurting and it was the easy option.
"He placed his left hand on my leg and asked if I was cold. He kept his hand there and rubbed my leg from the ankle to the thigh. He asked if I shaved and said he could tell I did. I was shocked but kept quiet."
Despite her request to be taken to east Hull, Rahimi took her to west Hull and ended up in Asda petrol station in Hessle Road.
Once there, the girl escaped from his cab and ran for help.
She said: "I wanted to get out. Once he stopped at the petrol station, I took my seatbelt off and ran as fast as I could."
She rang her friend for help and reported the incident to the police the next morning.
Iranian-born Rahimi, who has lived in Hull for eight years, denied it was him until the CCTV footage was shown to him, showing the girl fleeing from his car as he put petrol in.
Rahimi was in his private hire cab at the time of the assault at 3.30am on May 6 but was not working at the time.
Rahimi, who volunteers as an interpreter at the Hull Asylum Seeker Support Group, has worked as a door supervisor for three years and had been working for a private hire firm at the time.
Private hire vehicles are banned from picking up fares that have not been booked.