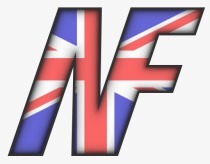 On Saturday the North West National Front held a day of action in Manchester City Centre. Manchester has always been a hotbed of left wing activity and last Saturday afternoon was no different.
Not knowing what to expect, the National Front members made their way up Market Street. The first table we passed was a Muslim stall handing out free copies of the Qur'an, a further few yards up there was a small left wing table. We continued up Market street to where the larger crowds were and there was also a gathering of the Communist Socialist Workers Party.
We then got our banners and leaflets out as well as the mega phone. Within minutes the commies started their usual chanting against us and this female communist tried grabbing our banners and attempted to spit at us.
I started chanting "Justice for Lee Rigby" and "soldier killers off our streets" and this really got the public's attention. The decent white people of Manchester were on our side joining in the chanting and they were hurling abuse at the reds who continued to try and grab our Union flags. This was all too much for one female member of the public and when she saw the lefty woman with the big mouth once again try to grab our flag she flew at her. Needless to say the red was not so vocal afterwards.
We then moved into Saint Anne's Square and continued to hand out well over a thousand National Front leaflets.
About 25 NF members were in attendance, the day was a great success and how heartening it was for us all to have the support of the public. There certainly is a sea change in Manchester. Years ago it would have been suicide for nationalists to go in the City centre and get our banners and flags out.