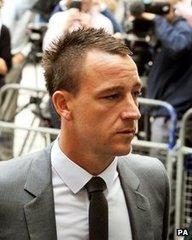 Chelsea and England footballer John Terry is cleared of racially abusing Queens Park Rangers' Anton Ferdinand.
The Chelsea and England defender had denied making the comments to the Queens Park Rangers player during a match at Loftus Road last October.
The 31-year-old told Westminster Magistrates' Court he was merely repeating what he thought Mr Ferdinand had said to him as they traded insults.
Mr Terry had described himself as "angry and upset" over the claims.
It was alleged he had insulted Mr Ferdinand in a Premier League match, describing him as "black" and using extreme sexual swear words.
Chief Magistrate Howard Riddle said he had heard a great deal of evidence to show Mr Terry was not a racist.
In his written judgement, he said that after weighing the evidence it was "highly unlikely" that Mr Terry abused Anton Ferdinand in the manner he was accused of.
Mr Riddle went on: "The prosecution evidence as to what was said by Mr Ferdinand at this point is not strong.
"It is therefore possible that what he [Mr Terry] said was not intended as an insult, but rather as a challenge to what he believed had been said to him.
"In those circumstances, there being a doubt, the only verdict the court can record is one of not guilty."
Mr Terry did not comment to the waiting media as he left court.
Alison Saunders, Chief Crown Prosecutor for London, defended the decision to bring the case to trial.
She said: "The very serious allegation at the heart of this case was one of racial abuse.
"It was our view that this was not banter on the football pitch and that the allegation should be judged by a court."
Of the subsequent acquittal, she added: "That is justice being done and we respect the chief magistrate's decision."