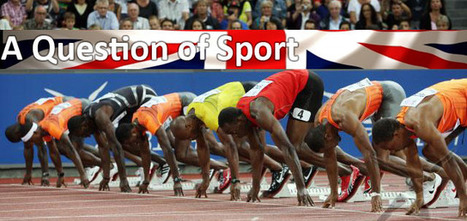 The English will rarely win the World Cup. The (ethnic) English will never win another Olympic 100M gold. We will always win rowing events, rugby, field events, wrestling and swimming. We are better at some events and not others because of ethnic physiology. How can skin colour effect athletic prowess to such a degree? Well of course, aside from politically correct niceties, there is more to race than sun tans. Here is a breakdown of racial advantage in sport:
West Africans
At present, every men's world record from 100m to 1 mile belongs to a West African. The last time a European white man held the 100m world record was 1960. Africans have lower body fat, longer legs, and narrow hips, greater muscle mass, more fast-twitch muscle fibres, higher testosterone and more anaerobic enzymes, which are advantageous to running.
East Africans (Kenyans)
The top 60 times for the 3000m Steeplechase are held by East Africans, particularly Kenyans, and they hold more than half of the top 100, 3000, and 5000 times. 70% of Kenyan medal winners come from one area of Kenya, a high altitude region with thin air. Subsequently they have more red blood cells, larger lung capacity and more slow-twitch fibres, which are advantageous to distance running.
White Athletes
White (European) atheletes tend to have more upper body strength, and relatively short arms and legs. As a result we dominate weight lifting and wrestling, and excel at field events. Whites hold 46 out of the top 50 throws for shot put and hammer. Whites also dominate swimming, very few Africans ever reach a swimming final, because they have heavier bones and smaller chest cavities.
Indian athletes
For the second consecutive Olympic games, India, with a population of 1 billion people, bought home only one bronze medal.
The Olympics is an international competition which pits sub-species against sub-species. This results in Africans winning the running events, and Whites for
example, winning the throwing and swimming events. There is no true competition as the competitors are so unevenly matched. The White 100m record was set as far back as in the seventies, by sprinter Marian Woronin at 10.00s.
What does this mean for ten year old English boys and girls who dream of running for their own nation in athletics? Athletics dreams are completely lost to them. Africans will always win the running events, and if they will always win the running events that means whites are not going to be able to compete in running at the elite level, and white people want to watch, participate in, and be entertained by white runners. We need a White Olympics, for Europeans, by Europeans, for the entertainment of Europeans !
Read more : http://sherwoodpatriot.wordpress.com/2012/03/14/a-question-of-sport/