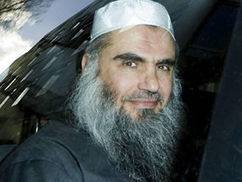 UK News :: Britain 'should show some backbone and just boot out Abu Qatada' - Breaking news from around the UK...
NEW fears that hate preacher Abu Qatada will avoid ­deportation from Britain emerged last night despite £2million of taxpayers' money being spent on trying to kick him out.

The ranting cleric is wanted on terrorism charges in Jordan, but guarantees that evidence obtained under torture won't be used against him are ­crucial to his extradition.

Now fresh claims about the mistreatment of detainees in Jordan cast doubt on whether the European Court of Human Rights will agree to Qatada being sent to his native country by the UK.

The latest twist in the long-running saga to expel Qatada, who got to Britain on a false passport in 1993, came as Falklands War hero Simon Weston urged Government ministers to have the backbone to boot him out regardless.

"We are a crazy country," said Mr Weston, who overcame appalling injuries suffered in the Falklands, at the launch of the Naidex Nat-ional disability exhibition in Birmingham.
"We have a terrorist suspect living among us and he has cost us £2million and we can't get rid of him. We seem to support those that don't need support and not support the people that do.

"Nobody agrees with him being here, spending tax-payers' money.

"That guy has done absolutely nothing to contribute to this country but has scammed the system.

"When are we going to deal with him properly? If he has done something to the USA he would not be here in Britain now. He would be in America.

"He would probably die out there. We can't keep being soft on people of that nature. I think it is absolutely appalling."
Mr Weston said that law and order had to be rooted in "common sense".

The new torture claims in Jordan were made by four anti-regime protesters who said they were stripped, beaten and sexually humiliated while in custody last month. One of the alleged victims, accountant Abdullah Mahhaden, said he was among 30 people arrested for "insulting" the country's ruler King Abdullah at a demonstration against the detention of seven activists.

They were freed two weeks later on the king's orders.
Jordan's security department said the accusations were "baseless" and a "lie".

The Home Office in London declined to comment.
But Ben Ward, of Human Rights Watch, said: "Clearly these allegations of torture in Jordan show that it remains a real problem and fundamentally calls into question the Government's whole strategy on Qatada and its assertions that he won't be tortured when he is sent back."

Qatada, 51, once described as Osama Bin Laden's right-hand man in Europe, faces trial in Jordan over his alleged involvement in terror attacks in 1998.

His deportation seemed assured after Home ­Secretary Theresa May told Parliament last month that Jordan had promised that evidence obtained under torture would not be used against Qatada.

But the matter turned to farce after Qatada's lawyers submitted a last-minute appeal.

The Government is now waiting for judges at the European Court of Human Rights to say if it will hear the appeal.