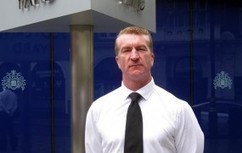 British Freedom's Kevin Carroll yesterday achieved an historic result in the election for Bedfordshire Police and Crime Commissioner.
In the face of a dirty campaign by the Labour Party (assisted by the SWP and UAF), hostile local media, criminal attacks on BF campaign advertising and exclusion from public hustings, Kevin Carroll captured 10.3% of the vote, retaining our £5,000 deposit and soundly beating the Muslim candidate into fifth place.
Votes cast were as follows:
Kevin Carroll (British Freedom) 8,675
Linda Jack (Liberal Democrat) 11,205
Olly Martins (Labour) 27,947
Jas Parmar (Conservative) 26,226
Mezanur Rashid(Independent) 8,076
Rejected ballot papers 2,041
TOTAL VOTES CAST 84,170
(TURNOUT 18%)
Since no candidate achieved more than 50% of the vote, the first and second candidates (Labour and Conservative) proceed to the second round, where second choice votes will decide the final outcome.
A full report will follow. In the meantime, please raise a glass to Kevin Carroll, who today took his first decisive step towards Westminster.