Scoop.it!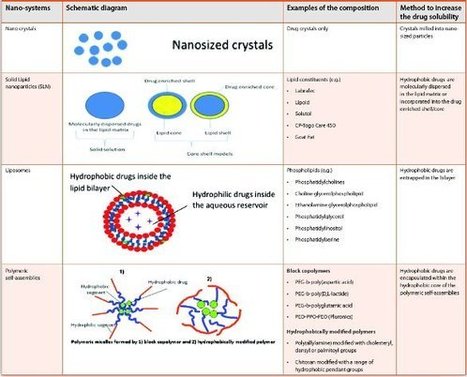 Implementing Nanotechnology and Novel Drug Delivery Systems to Improve Dissolution and Solubilization (New article!
Luís Bastos's insight:
Conventional excipients such as surfactants, cosolvents are often added to improve drug solubility for both oral and parenteral routes. Complexation with cyclodextrins or formulating oil in water emulsions are also employed to improve poorly soluble drugs. Today the growing demand to fabricate drug delivery systems capable of encapsulating high levels of active ingredients with additional benefits such as drug targeting capability has resulted in a plethora of technologies exploiting the unique physical properties of nano-sized structures. Nanotechnologies such as nano-crystals, solid lipid nanoparticles (SLN), nano-emulsion, polymeric nanoparticles, liposomes and polymeric self-assemblies have been employed to enhance drug solubilization. In this review, we will focus on four types; namely nano-crystals, SLN, liposomes and polymeric self-assemblies.