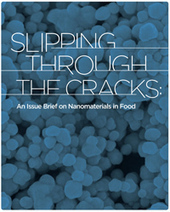 "Because of their small size, nanoparticles can to go places in the body that larger particles cannot. Nanoparticles in food or food packaging can gain access via ingestion, inhalation, or skin penetration. Once inside our bodies, nanoparticles can penetrate cell walls and pass into the blood and lymph system.
From there, the particles can circulate through the body and reach potentially sensitive target sites such as the bone marrow, lymph nodes, spleen, liver, and heart, and may also cross the blood‐brain barrier. As You Sow's survey results indicate that food, food packaging, and supplement companies are not being transparent about their use of nanomaterials.
The survey was sent to 2,500 companies in the food industry, including the 100 largest food processing companies, the 50 largest food distributors, the 75 largest food retailers, the 25 top packaging companies, the 50 top fast food companies, and 187 supplement companies. It yielded only 26 responses and a third of those companies admitted they did not know if nanomaterials are present in their products or supply chains. Only two companies had formal policies on the use of this new food additive that has undergone little or no safety testing."