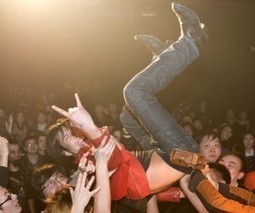 Editor's note: This is a guest post by Aaron Pitman, an angel investor and founder and partner of RA Domain Capital.
If you've ever been to a big, rowdy concert, you've probably witnessed the phenomenon of crowdsurfing. This happens when a musician or fan takes a leap of faith from stage, knowing the crowd will carry them to safety. Using crowdfunding for your startup venture is much like crowdsurfing a rock concert — and also carries the same hazards that, at any moment, someone might drop you to the ground.
Still, Kickstarter success stories seem to be everywhere. The late, great teen detective television drama Veronica Mars broke all manner of Kickstarter records on its way to funding a theatrical edition. TV star and indie darling Zach Braff took to Kickstarter (not without his detractors) to fund his next independent movie. At this point, it seems like every other day celebrities and regular ol' entrepreneurs are using the crowdfunding platform to raise needed capital.
So why shouldn't you skip traditional investors and take your business plan straight to the people? Are traditional investors really that great when you can leverage your social networks for cash? This is the question the Kickstarter trend has inspired in a great number of entrepreneurs, who are hawking ideas from next-gen watches to artisanal sodas on the platform.
But, for startup founders looking to create a company built to last, is Kickstarter really the way to go? Here are some reasons traditional investors are still the the best bet for startup funding:
To read the full article, click on the title...
Get your Free Business Plan Template here:
https://growthink.infusionsoft.com/go/freebptemplate/gt4045/
Via
Marc Kneepkens