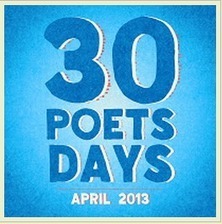 'Tis the time of year when poets wax poetic Web-wide, sharing their work and participating in writing contests(like our flash fiction contest that's running all month).
It's also a time to discover some great writing if you're of the 'reader' variety – and we have a Twitter account to tell you about that will be sharing 30 poets' work during these 30 days of April.
It's called 30 Poets/ 30 Days.