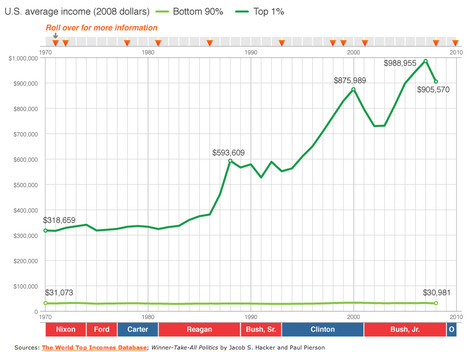 What purposeful political acts created and sustained the huge gap between the super-rich and the rest of America?
by Troy Oxford and Lauren Feeney, Moyers & Company
In recent years, the rich have seen their wealth grow dramatically while the poor and middle class have basically flatlined. It's no accident, argue Jacob Hacker and Paul Pierson in their book Winner-Take-All Politics. The infographic below, which draws from Hacker and Pierson's book, explains how our politicians — on both sides of the aisle — fell under the spell of corporate dollars and re-engineered our economic system to favor the wealthy. The dark green line shows the income trajectory for the top 1 percent since 1970, while the light green line shows the bottom 90 percent. Click the orange triangles to learn about critical turning points that helped create the skewed system we have today.
[MORE including Interactive graph]
Via
Margaret Reeve Panahi