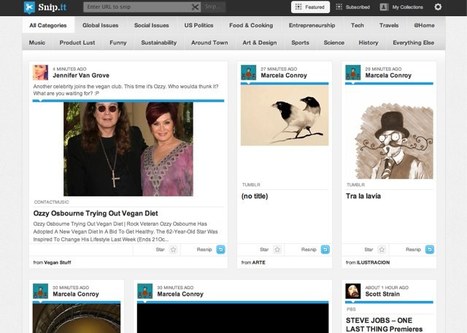 Snip.it, a startup launching this week in private beta, helps you collect web content you want to save with your voice.
Adeeb, formerly a principal at Khosla Ventures, founded Snip.it as a place where people can create collections. They're comprised of content and opinions — appropriately termed "snips" — and they can be saved privately, or shared with friends and strangers.
Snip.it users clip content as they browse the web, just as they would do using any other bookmarklet, add a little commentary of their own and then plop their digital discoveries into collections.
You can think of collections as elegantly styled, topic-themed buckets for storing the web content that relates to your interests. And you can use your collections for personal reference or as curation tools to publicly demonstrate your expertise and subject-matter knowledge....
[read full article http://j.mp/tRIjuE]
Via
Giuseppe Mauriello