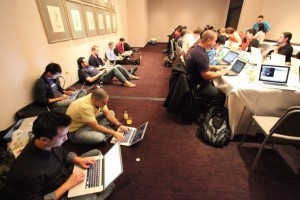 More and more organizations are spending lots of time and resources on social media every day. Yet they seem oblivious to the key element that can impact their success the most: their employee base.
Condensed...
When's the last time someone from your IT department participated in a Twitter chat on industry developments while at work? Or has anyone from your accounts payable team liked your brand's Facebook page? Or when was the last time someone from your sales team answered a question on Quora?
Unfortunately, none of these scenarios are happening very often at most organizations. And it represents a huge missed opportunity in social media.
Fostering a social media friendly workplace will encourage employees to participate in the conversation happening online in their professional capacity. Doing so will not only extend the brand's reach, but also contribute to the development of employees.
Below are a few tips to help your organization tap into its employees to boost its social media efforts:
1. Assess employee social media knowledge
2. Teach them a thing or two about social
3. Cultivate a social media friendly workplace
4. Communicate
5. Set ground rules
Via
marketingIO