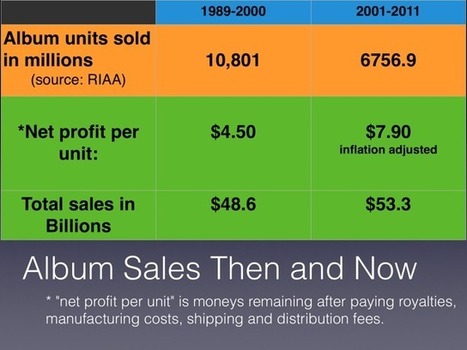 In 2001 the Internet community declared the music industry DOA, predicating total decimation by illegal P2P file sharing services within five years. The major record labels disagreed.
Today, after a decade of lawsuits and lobbying major labels make about the same revenue from albums while selling 30% less units then they did in the pre-Internet era. (1989-2000: $48.6B, 2001-2011: $53.3B)
Tortured album sales (which inched ahead since 2010 with the death of the two biggest illegal P2P services: Limewire and Kazaa) has inspired cost-cutting in the supply chain, thus reducing royalties and fees paid to music creators. Net result: the industry has hovered at $10 Billion a year and thus-far survived the Internet transition many other industries have failed to do. Score one (a big one) for the majors.
But will it matter?
The latest music Armageddon theory is that subscription based streaming services like, Spotify, MOG, Last.fm and Rdio ("Streaming") will cannibalize recording artist's main revenue: ownership, both of physical CDs and downloads from stores like iTunes and Amazon.
Why buy and maintain files if you can stream them on demand any time, anywhere, through any device for nine bucks a month?
The industry jargon for this is called going from an "ownership model to an access model."
But, even if labels and artists saw half of that nine dollars from "access" and even if 1 in 2 people in the US subscribed (and those assumptions are optimistic) that would reduce the gross revenue down from $10 Billion a year to $6.3 ($4.50 X 150M X 12). More doom and gloom for the music trade, right? Nothing new here, except that this time–strangely enough–major labels are supporting this agenda.
Why? Streaming/access pays far less than direct sales and it contributed to only 0.3% growth in 2012 according to the IFPI. Yet the majors are embracing this fractional medium while the technocrats still call labels dial-up dinosaurs.