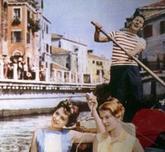 In today's local newspaper "Il Gazzettino di Venezia" you read, that the "Gondolieri" Corporation in Venice is opening up to the public by allowing 8 new gondoliers to join through a public call for tender. Whoever might be interested however has to hurry up as the deadline is at 1.00PM on 16th July 2012. Here the details of the public call for tender: http://bit.ly/PQncOX
In the 17th and 18th Century the gondolas in Venice used to be around 10000 as it was the main transport mean within the city. Today with this new opening of 8 licenses the gondoliers will pass from 425 to 433, therefore the 180 substitutes will have more opportunities to work.
There is a long closed tradition among this "corporation", like almost every job in Venice it was handed down from father to son and no one else was allowed to enter. For centuries not even the Venetian women were allowed to be part of it until 2010 when Giorgia Boscolo made it changing these ancient rules for the first time. Read more about her story here: http://bbc.in/LHMtcD
Other women in the past have tried to break these rules among which Alexandra Hai, a German Algerian lady who failed the Gondolier's test 4 times: according to the corporation because she was unable to govern the Gondola properly, according to her because of sexual discriminations and because she is a foreigner. Read more on her story here: http://nyti.ms/Oxrmou
Of course most of the tourist coming to the city of Venice are fascinated by the gondolas and who does not want to tell his or her friends once back home that they toured Venice in a gondola? But sometimes the price can be quite a surprise if you are not aware of the official ones. So best is to check before starting your adventure on a gondola in Venice: http://bit.ly/Mij0Ga
Have fun and enjoy Venice!