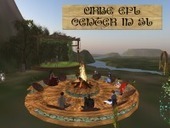 "EPOCH" creators and designers, it's a great opportunity for showcasing what they do in SL. They create something for the event, put their unique point of views into items, and collaborate with other designers to inspire each other. Also EPOCH will be a perfect chance for shoppers and art fans to check talented designers and their latest works all at once.
On the 26th February, very first EPOCH event called "EPOCH-Legend" will be open. They ve got more than 50 shops, 3 themes and 4 venues to present you the best 2 weeks fair full of fun.
They have 3 themes; "Art of Escher", "Beast" and "Clowning", and exhibit each one in the themed venue on different sims. Hop from one to another!