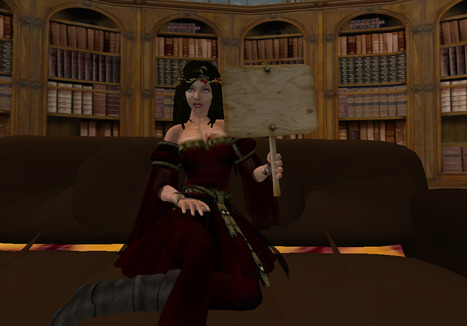 Pionia destiny waves and smiles as she appoaches the group of webeads villagers gathered at the place. Attracted by the conversation she couldn't help but listen to. She feels really sorry she missed the event where practioners and visionaires got together to talk about one of her passions... Roleplaying and emoting to learn a new language and everything else that comes with the bundle. Specially the F.U.N and creativity of interacting in a virtual world through characters born out of the imagination of its players and that come alive to cast spells, battle, or create an international community where languages and culture mix in a magical way.
After joining the crow gathered, she pulls out of her scrolls with images of a stories to tell about her adventures on these virtual realms of fantasy...
http://medievalroleplay.blogspot.fr/2012/09/slanguages-demo-class-role-playing.html
Inviting them to come to her little woods next Sunday 28th for a
Your Local time: http://tinyurl.com/9ldf4l2

Meeting point: http://maps.secondlife.com/secondlife/Warwick/119/54/1601
***********************************
Demo Class: Role-playing cooking in a tavern
***********************************
Get a look at how Medieval role-play in virtual worlds sparks imagination and creativity when communicating in a new language. This session will introduce you into the basics of role-playing in virtual worlds by allowing you to immerse and interact in a fantasy role-play tavern through conversations and a treasure hunt game. Have a look at the tools used in this fantasy worlds and meet some of its role-players.
Bio
Pionia Destiny, also known as Dr. Doris Molero is a Professor at Dr. Rafael Belloso Chacin University in Maracaibo, Venezuela, where she has taught campus and on-line classes since 1999. She has a Doctor of Sciences of Education degree and her research blends virtual worlds, emerging media, education, innovation, literacies and language learning and teaching.
http://medievalroleplay.blogspot.com/
http://pioniadestiny.blogspot.com/
Pionia Destiny smiles telling the webheads: Welcome to Secondlife, just get an avatar and join us. Hope to see you all.
With sparks in her eyes, she offers her help to newcomers, .. and you, the newones just call my name on the web and we'll get together for a chat on the previous day, just scribe the runes doris3m@gmail.com and write your concerns, they will be casted away.. smiles as she waves good bye... closes her eyes sending a wave of warm energy to her dear webheads wishing them to have a great day...
Keep on shining Love and Peace!
Dra. Doris Molero de Martins, Msc.
ESL Language Center
Rafael Belloso Chacin University (http://www.urbe.edu )
http://www.pioniadestiny.blogspot.com

http://www.doris3meflcenter.blogspot.com

doris3m@gmail.com
d.molero1@urbe.edu.ve
+58 4261612038