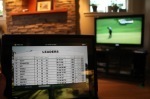 Developing a single second screen app that can deliver value for all types of TV programming is incredibly tough. It's incredibly tough because every show is different and every genre has its own unique challenges. Dramas are different than reality shows, which are vastly different from news programs. And let's not even talk about sports – that's its own beast in itself.
Long story short, it's hard to get the perfect second screen experience for everybody. Is it social, is it about content, is it loyalty? Is it all of the above? Even if you were to do all of the above, how do you get people to remember your app exists when people watch TV? How do you sustain audience while someone watches TV?
The question ultimately is: which experience is the most meaningful for me, the most personalized for me, and is available consistently every time I watch TV?
Via
Nicolas Weil