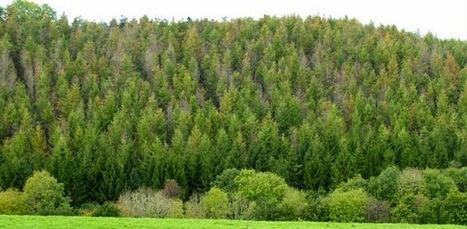 At least ten tree diseases and pests are now 'epidemic' in Britain, including ash dieback, according to a Government adviser.
Dr Joan Webber said there are now 10 tree diseases that are epidemic:

1) Dutch elm disease arrived in two waves in the 1920s and 1960s and destroyed most of the country's elm trees. The second, more lethal pathogen, is still at large in the countryside killing off mature trees.

2) Alder phytophthora is killing alders along our riversides. Up to a quarter of alders are already infected by the disease or dead.

3) Red band needle blight or dothistroma needle blight is a significant threat to conifer plantations. It was first found in Corsican pine the 1950s in East Anglia but is now across the country and threatening the native Scots pine.

4) Sudden oak death or phytophthora ramorum is widespread across south-west England, Wales and south-west Scotland. Despite the name, it affects mostly Japanese larch trees. Already more than four million have been felled to try and stop the spread of the disease.

5) Bleeding canker is now found in half the country's horse chestnut or conker trees, according to the Forestry Commission. It will weaken the tree until it dies or has to be felled for health and safety reasons.

6) Phytophthora lateralis threatens to wipe out Lawson cypress, a popular ornamental tree in many stately homes. It has killed trees in western Scotland, Yorkshire, the South West and Wales.

7) Phytophthora austrocedrae kills native juniper, a tree that conservationists are trying to re-establish after going extinct in many areas. The disease has killed juniper in the Lake District and Scotland.

8) Chestnut leaf miner is a moth that is now in most conker trees. Although it does not necessarily kill the tree it will weaken it and can kill in combination with bleeding canker. It also makes conkers smaller.

9) Phytophthora pseudosyringae kills the southern beech tree. Although the tree is not widespread in the UK it was hoped it could spread as the climate becomes warmer but is in danger of being wiped out by this disease.

10) Ash dieback, known as Chalara Fraxinea, is now in 222 sites around the UK. In other countries is has infected 90 per cent of ash trees and could wipe out a huge proportion of Britain's 92 million ash trees.