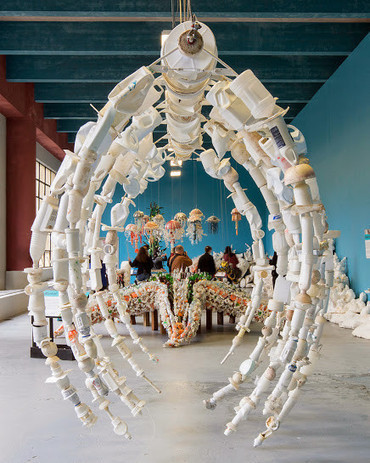 They're beautiful from a distance -- and appalling upon closer inspection.

A styrofoam coral reef, a water bottle jelly fish and a plastic whale ribcage are some of the giant sealife sculptures featured in Washed Ashore -- a traveling exhibi...
"I've created something I hope is beautiful and horrifying," lead artist Angela Haseltine Pozzi told the San Francisco Chronicle.
The display, sponsored by Pozzi's Artula Institute for Arts and Environmental Education, is the product of years of collecting more than 11 tons of beach trash to raise awareness of how plastic pollution affects the species featured.
"We're thrilled that the Zoo is bringing this important art and educational message about ocean pollution to a wide audience in the Bay Area," Pozzi said in a zoo press release.